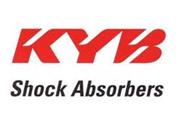 KYB Shock Absorbers
Established in 1919, KYB has become a world leader in the development and application of hydraulics technology. KYB's components and products are sold in more than 100 countries.
Proficiency in engineering and manufacturing helped earn KYB the Demming Prize for total quality control.
Excellence comes as standard
KYB Corporation is one of the largest worldwide manufacturers of shock absorbers for original equipment supplying around 50 million shocks every year to the world leading vehicle manufacturers. 1 in 4 of the worlds cars and light commercial vehicles leaving the production line are fitted with KYB shock absorbers as original equipment
KYB Corporation also manufacture many other hydraulic products as original equipment, including aircraft components, special purpose vehicles, marine equipment, and original equipment motorcycle shocks and front forks.
High level technology, manufacturing and product quality corresponding with a superb aftermarket engagement guarantee excellent shock absorbers. The range offers oil and gas shock absorbers, and a range of high pressure mono tubes – the best for more demanding driving.
Product Range
Excel-G Gas Replacement Struts Shock Absorbers and Cartridges – 300000 Series
The best choice to replace your MacPherson Strut, Shock or Cartridge to ensure comfort and a steady ride.
If your car has shocks, struts or cartridges that are worn, replacing them with KYB gas replacement units will give you the benefits of excellent road control and the superb handling response only gas can give.
Outstanding features include:
Multi-lip oil seal extends life.
Teflon coated bushing reduces wear.
Hard chromed piston rod reduces friction.
Pressurized nitrogen gas reduces foaming and aeration dramatically for better performance.
Rebound cushion prolongs life.
All-weather fluid.
Wear resistant piston ring reduces leakage.
Compression valve self-adjusts for fast recovery
GAS-A-JUST Shock Absorbers (Mono-Tube) – 550000 Series
The new concept in ride stability means more driving pleasure.
Top quality, automatically adjusting and double-action, the basic secret's the combination of highly-pressurized nitrogen and an all-weather fluid. This helps minimize bounce and sway to deliver more comfortable rides. Less bounce and sway improves steering and cornering. In addition, top road contact means less wear on parts, tyres. These features magnify in importance for vehicles with radial tyres or those driven extensively, for sports car and performance buffs.
Outstanding features include:
Breakage is reduced by seamless eye ring mountings.
Oil is kept in, dirt is kept out by a multi-lip seal.
Rubber cushion protect shock inside on extreme extension strokes.
Hard-chromed piston rod to reduce friction, minimizes friction.
Constant performance from wear resistant piston ring.
Large diameter seamless steel cylinders resist splitting.
Single tube design reduces heat build-up.
Both the extension and compression valves are located in piston for quick response to forces in either direction.
Provides consistent control regardless of temperature because the all weather fluid remains near constant viscosity.
Gas and fluid are completely separated by a floating dividing piston featuring special patented O-ring design.
Nitrogen gas keeps all-weather fluid under constant high pressure, preventing foaming and aeration.
AGX Performance Shocks
Import Sport High performance has become the hottest segment in the business. Now, KYB introduces the perfect high performance shock for today's high technology consumer.
Built with the advanced engineering and exceptional quality you'd expect from KYB, AGX lets the driver tune their shocks to match driving conditions in seconds.
Fast on car adjustment: No need to fit the vehicle or remove anything to change settings. Damping rate is selected with an external knob on the shock body or a screw driver slot at the top of the piston rod, depending on the model.
Adjustable damping allows one shock to meet all conditions: Strip, Cruising, High Speed Touring, Street and Track.
The single damping adjustment on the AGX Shock changes both the rebound and compression strokes. Depending on the model, there are either four or eight stages of adjustment. In addition to manually adjustable damping settings, AGX features 3-stage, real-time, auto adjusting damping. When driving on a smooth surface, shock movements are relatively slow and the AGX valving allows the shock to travel freely. As road conditions get rougher, the shock is compressed faster. AGX responds instantly to make response firmer, maintaining tyre contact and vehicle control.
This 3 stage valve action allows AGX Shocks to adjust to road conditions automatically.
SKORCHED 4'S
Made to be punished! Made to last
Australians love to explore the great outdoors and there's no better way than in a 4WD fitted with KYB Skorched4 shock absorbers.
KYB have specifically engineered the Skorched4 to provide superior handling & control when off road while maintaining excellent on road performance. The KYB Skorched4 is ideally suited to 4WD touring in Australian conditions for standard and up to 50mm lifted vehicles. 4WD touring shock absorbers must deliver precise control over rough terrain. They must continue to work in high temperatures over miles of corrugations and for prolonged periods.
Off-road touring conditions create high-speed shock movement. This rapid movement generates considerable heat which can quickly render a sub-standard shock absorber ineffective. Typical 4WD touring such as towing, travelling on unmade or uneven roads and driving for prolonged periods compounds the problem.
Designed and tested in Australia, KYB Skorched4's are carefully matched to industry leading coil and leaf springs, providing extra wheel travel and an overall suspension system correctly suited to carrying touring loads over rough terrain day after day. The velocity-sensitive valving is a perfect combination to coil and leaf springs further improving handling with reduced nosediving under braking, flatter cornering, added towing benefits and a more precise feel both on and off the road.
Build quality is as important as the design. KYB, as the world's largest supplier of original-equipment shock absorbers, ensure production processes meet the strict quality standards demanded by the worlds leading car manufacturers. That's good to know when you're in the Australian outback and a long way from home!
Ride and Handling Control
Carefully matched to market-leading springs suitable for standard and up to 50mm lifted applications
Velocity-sensitive for optimum control
Australian designed and tested for our unique conditions
Reduced nose diving when braking
Designed for touring 4WDs with heavy loads or towing
Greater vehicle control reducing pitch and roll