Shock absorbers transform the vibrational energy of the chassis and wheels into heat. This sounds simple, but it has serious consequences for driving safety and comfort as well as vehicle wear. With respect to safety, shock absorbers have the job of preventing the wheels from "hopping" on uneven surfaces and thus being unable to transmit braking, traction, or lateral forces when they temporarily lose contact with the road.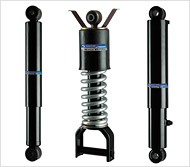 - Super quality at a favourable price for virtually all types of vehicles
The SACHS Super Touring range is aimed at drivers who like to do their daily driving without problems and their holiday driving with ease – thus expecting high safety and comfort. In city traffic, on country roads and on the highway.
Sachs Advantage A top shock absorber with distinguished features: maximum driving safety and optimized road holding.
SACHS Advantage is the alternative for the highest demands in all driving situations. Individually adapted to each vehicle for that decisive plus in handling and driving stability. Advantage combines sportiness with comfort.
In the Advantage series, you will only find single and twin tube gas pressure shock absorbers. Special techniques are employed wherever they can lead to a noticeable improvement to driving performance. An example of this is groove technology, which helps to adapt the absorption power to the certain vehicles. Or state-of-the-art valve technology which permits a special coordination of digressive characteristics. Advanced technology precisely and individually tailor made to suit each vehicle type, axle construction and suspension design. In this way, Advantage convinces above all by its high safety reserves and optimum road-holding.